Five Ways Technology Can Help Continue Your Work
April 14, 2020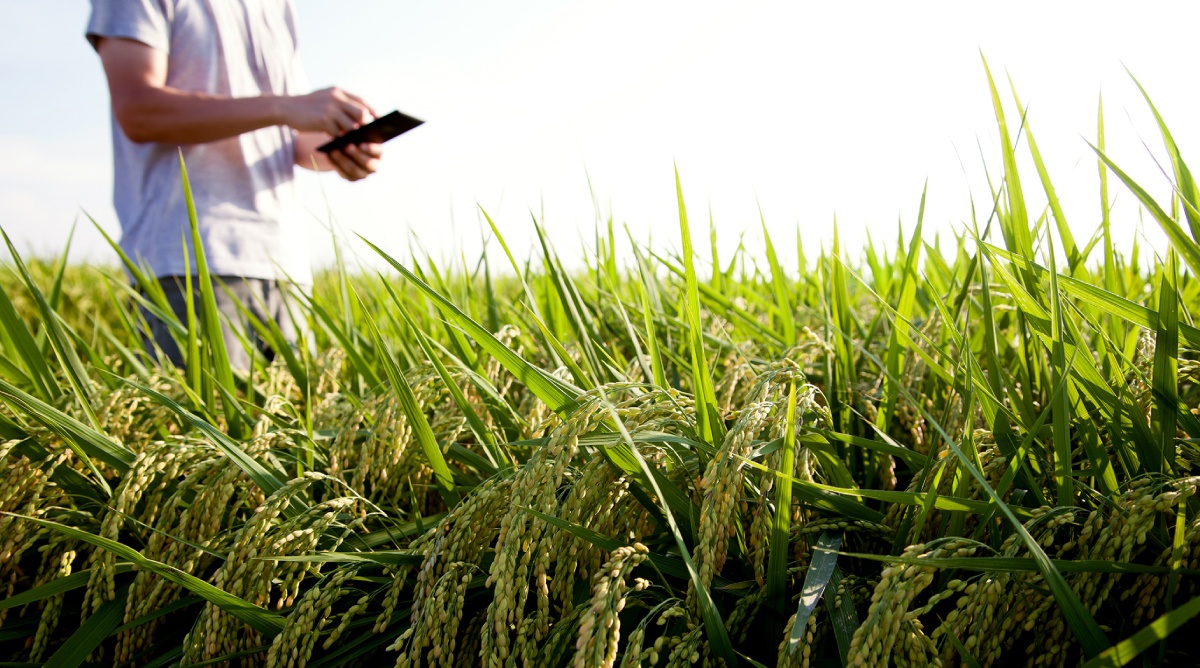 How Precision Ag Can Help You Farm Through COVID-19
As we discussed in a recent blog post, agriculture is an essential industry all the time, but especially in the midst of a pandemic. Despite the challenges and uncertainty you're facing from COVID-19, we know you're still planting, harvesting, raising livestock and doing everything possible to keep your operations up and running.
One tool that can help farmers navigate this difficult period is precision ag. Here are five ways technology can help you continue completing your work in a safe, timely and efficient manner.
Maximize Hours and Run More Efficiently
Since technology is available 24/7, you can utilize precision ag to get more work done in a day, particularly with auto-steer and guidance solutions.  Even before the virus, farms all over the world have been running three 8-hour shifts in a 24-hour period to get their work completed on time. If you're worried about getting your fieldwork accomplished in a timely manner due to the effects of the pandemic, guidance can allow you to have someone work their shift in the night, versus waiting until the next day.
"If ground conditions are favorable and you can follow safety practices, technology is there for you to run a 24-hour operation," says Guillermo Perez-Iturbe, Director of Marketing for Trimble Agriculture. "It just gives you more flexibility."
To learn more about how precision ag can help you run 24/7, see our guidance and steering solutions. 
Help Get New Workers Up to Speed Quickly
One concern you may be facing with the pandemic is a reduction in labor. Some farms rely on seasonal workers from other countries, and with border closures occurring, you may not have as many workers as expected.  Or if you or key personnel on your farm get sick, you may need family members or other employees to fill in for some tasks. In either case, technology can make this transition easier. Guidance solutions make it possible for people to focus on getting fieldwork done without worrying about driving the vehicle. This technology is simple enough that those new to farming can get up to speed quickly.
If you fall ill and can't teach others how to work the equipment and software, your precision ag reseller can teach on-site with the proper safety measurements due to COVID-19 and also support you remotely. If this is a concern, be proactive and reach out to the partner that delivered the technology to schedule training for the person that may need to fill in for you or another worker. Perez-Iturbe encourages Trimble customers to reach out to their Trimble resellers, as they are all open and ready to continue providing support.
Get the Most Out of the Inputs You Have
Labor isn't the only factor being impacted by the coronavirus. There is concern that agriculture's supply chain may see bottlenecks and shortages, and you may be unable to access the inputs you typically rely on.
In such cases, variable-rate technology can help you get the most out of the inputs you do have, as it allows you to apply the right product in the right place at the right amount at the right time. You may find you can cover more acres than you normally would with blanket coverage. For example, the WeedSeeker 2 — which uses optics to spot-spray weeds — can reduce up to 90% of herbicide applied.
Optimize Logistics to Eliminate Bottlenecks
The other challenge with the supply chain, which we're already seeing with Wisconsin dairy farmers having to dump milk, is farmers being unable to get their products off the farm when they need to. While precision ag can't help you solve this problem, there are technologies that optimize the utilization of transportation and logistics. Transportation is a core business of Trimble's, with solutions covering everything from the dispatching of vehicles to how the operators behave. If transportation companies in the agriculture industry utilize these kinds of technologies, it can help reduce those bottlenecks and ensure product continues moving from the farm to its final destination.
Reduce Stress with Auto-Steer
Everyone is under a lot of stress at the moment, and farmers have the added pressure of continuing to do their work so everyone still has access to healthy food. But if you haven't adopted any precision ag yet, the simple incorporation of an auto-steer system like Autopilot can greatly reduce the amount of stress you're facing on a day-to-day basis.
If you're planting without guidance, for example, you need two levels of concentration: 1) operating the vehicle itself, and 2) maintaining the guidance and heading of the vehicle to maximize the use out of your available land. By removing that second piece of concentration and allowing technology to handle the driving, you can put 100% of your attention on the fieldwork being completed and ensuring everything is working properly.
This also reduces the odds of costly errors, and given the concern there may be a shortage of certain inputs, auto-steer can help ensure you get the most out of the inputs you have by eliminating overapplication from overlaps that can occur with manual driving.
Get the Most Out of Precision Ag

Technology brings a lot of automation to the farming process and creates economies, whether it's extending the life of your equipment to maximizing yield by understanding the variability of the soil. If you already have adopted precision ag, now is a good opportunity to look for ways you can get more out of it.
"It's a time of change, yes, but technology can help," says Perez-Iturbe. "Take better advantage of it. Maybe it was a good thing to buy the guidance system and that was plenty justifiable with the benefit you had, but what else? I'd entice those folks to get in touch with their Trimble Resellers and see how else they can utilize those technologies."
If you're new to precision ag, it's not too late to get started. If there's a problem you'd like to solve, there is a solution that can help you. And you don't have to go all in at once. Pick where you'd like to start, based on your particular needs and challenges, and you can continue building on that later. If you're interested in trying a new solution or you're not sure where to start, Trimble resellers are here to help. Contact your local reseller and they can help determine what precision ag technology would be a good fit for your operation at this time and how to get started.
Stay Healthy and Follow the Guidelines

While precision ag can help you maintain operations during the pandemic, only you can protect the health of your family and employees. It's the responsibility of each farmer and worker to respect the guidelines that have been put in place in their region, and actively avoid situations where you could be exposed to the virus. We encourage every farm to think through ways they can reduce contact with one another and ensure the health of the entire operation.
Please stay safe and once again, thank you for doing all you can to keep this essential industry running.