Why Nutrient Management Matters: Using GreenSeeker handheld crop sensor to improve savings and sustainability
June 27, 2022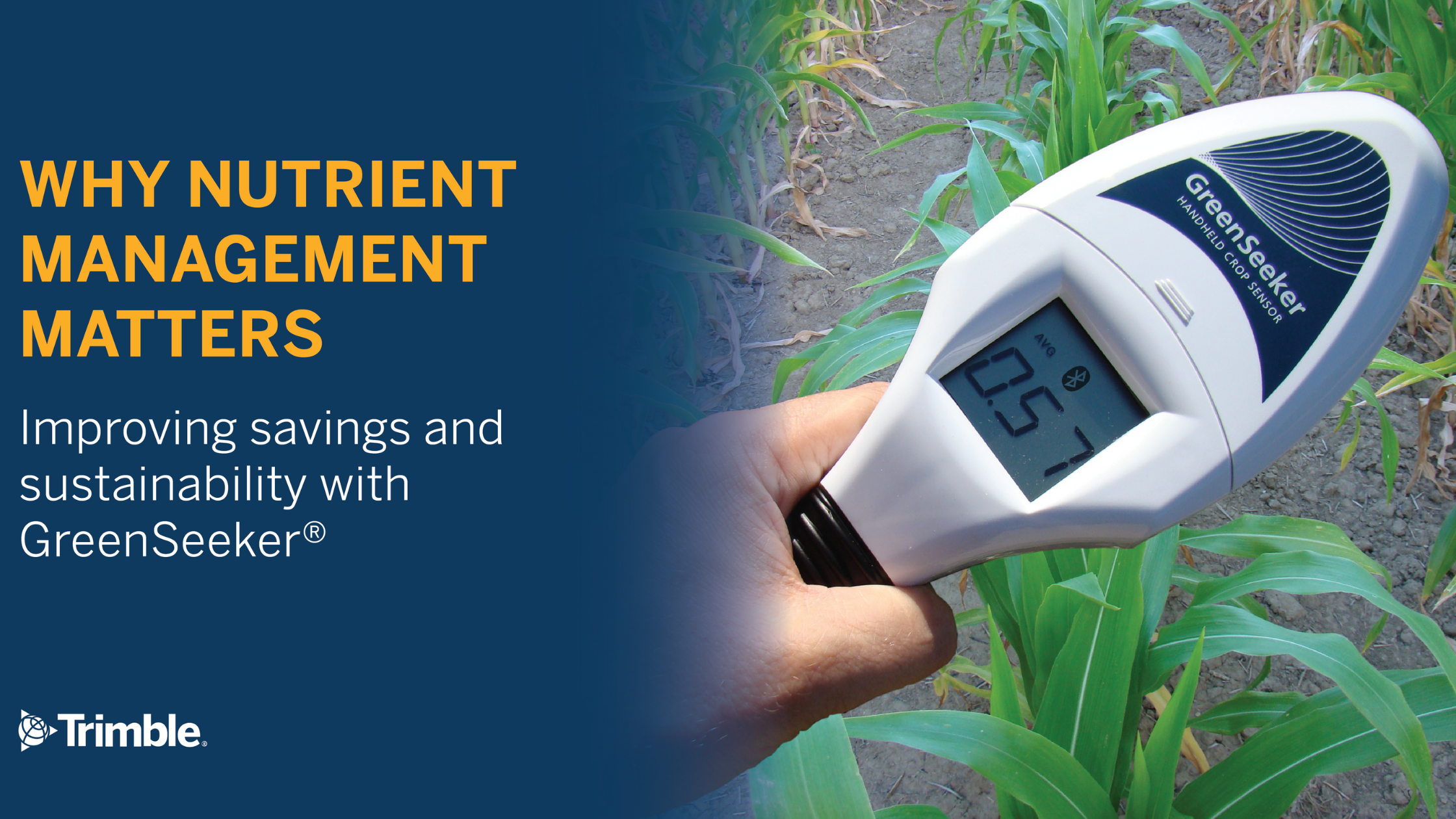 The recipe for crop success is fundamentally simple: seed, soil, water, food, and sun. But that's the simple part. As they say, the devil is in the details. There's not much we can do to make the sun and weather patterns cooperate, but operators have a host of information at their fingertips to make the right decisions for maximum yield.
The right input decisions support maximum yields
One important way to optimize your efforts is through nutrient management. On a very basic level, nutrient management balances your crop's needs with soil nutrient inputs. Soil naturally provides a certain degree of nutrients, but often not enough to result in maximized yields. This requires additional nutrients from commercial fertilizers or organic materials, such as manure, biosolids, or compost. 
The right approach to nutrient management is much like Goldilocks finding the right bear bed. Over-application can cut into your bottom line by wasting inputs and can even harm the environment. Apply too little, and you'll see little difference in your yields – making the return on investment just as wasteful. The sweet spot is the ticket to maximizing yields and input use with little to no waste, helping both your bottom line and your materials stock.
Replace the guesswork with GreenSeeker® Handheld Crop Sensor
Field needs can change from year to year as nutrients get depleted over time, so what has worked in the past may not work in the future. Crop rotation, type, and even seed choice also impact input needs from year to year. Because of these ever-evolving needs, nutrient management is an approach that should be based on science rather than guesswork. 
Trimble offers a terrific solution in the GreenSeeker® handheld crop sensor. This affordable, easy-to-use handheld measurement device easily assesses the health ­(or vigor) of your crops, allowing you to make those critical nutrient management decisions on a field-level basis. That's essential because nutrient management needs can change from field to field, and even within a single field.
How GreenSeeker works: Easy steps to success
Why take a risk and only guess what your field needs? Using GreenSeeker gives you the factual, science-based information you need for highly accurate input decisions. Simply point the device at the crop canopy, pull the trigger, and take a reading. 
The GreenSeeker sensor emits a few brief bursts of red and infrared light and then measures the amount of light reflected from the plant. The measured value is displayed in an NDVI reading on the device's LCD screen. This can range from 0.00 to 0.99, with higher readings detecting higher crop health. 
This data can easily be transferred to your mobile devices via Bluetooth, providing the information you need to determine when, where, and what amounts of inputs should be added. The app provides a downloadable file of your data that can be used back in the office to turn that data into recommendations that can help you anticipate and track future field needs.
GreenSeeker is a handy tool that provides a wealth of information without the need for any additional equipment. It's portable and easy to carry along in your cab for a trip into the field, and the recommended GreenSeeker Logger app is available for free on Android and iOS devices for a quick download. 
Good for your operation, good for your crops, good for the environment
Many operations already integrate soil testing into their operations, which is a great place to start in creating an effective nutrient management program. But the increased costs of commercial fertilizers and the market pressures on the crop market at harvest time mean more tools are needed to maximize yields in a cost-effective way. Having a tool that directly assesses nutrient needs from the crop's perspective throughout the growing season is a great addition to any operation. 

For such a small tool, the GreenSeeker handheld crop sensor provides a significant return on investment. It puts the power of data in your hands: Having actual, science-based data to make input decisions ultimately leads to less waste and higher yields. Adding GreenSeeker to your inventory means input decisions are no longer subjective, second-guessed or regretted when yield goals aren't met at the end of the growing season. 

To learn more about adding a GreenSeeker handheld crop sensor to your farm inventory, connect with your local Trimble reseller today.

Tags: Agriculture ROI, agronomy, agtech, GreenSeeker, GreenSeeker handheld, GreenSeeker Handheld Crop Sensor, Nutrient management, precision agriculture, Soil management