Trimble Select Introduces Sencrop for Ag Weather Data Sensing
August 14, 2020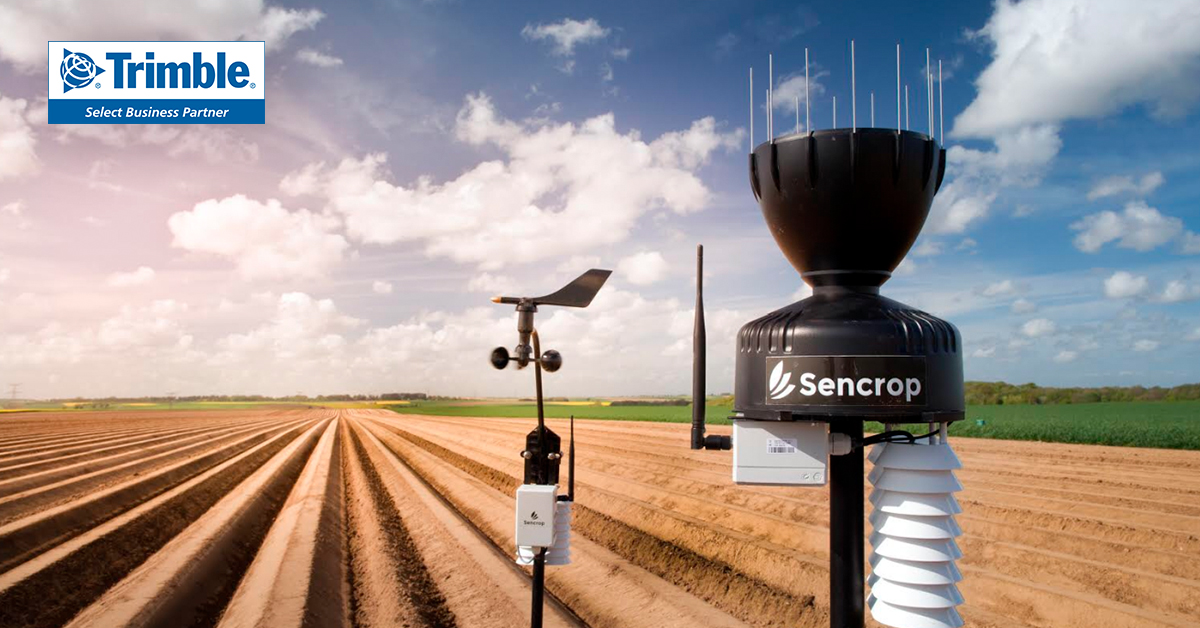 A great precision ag solutions suite needs great data to work with.
That's why French ag-tech startup Sencrop was chosen as the newest Trimble Select Partner. Sencrop develops and implements connected, accessible, and collaborative solutions based on agro-environmental data collection in order to make precision agricultural monitoring technology available to everyone.
Ag-Weather Solutions
A leader in ag-weather solutions connected to farm plots, Sencrop is the only connected ag-weather station solution available through Trimble in Europe. Under the Trimble Select Partner Program, Sencrop's connected ag-weather station is available to customers through the Trimble and Vantage™ distribution networks in Europe as part of Trimble's marketplace dedicated to precision agriculture.
It's important for farmers to have real-time weather data from their fields when performing tasks such as plowing, planting, or harvesting. Sencrop strives to develop more accurate, efficient, and environmentally responsible agricultural techniques and practices for widespread implementation.
Trimble Select Partnership
Sencrop is thrilled to collaborate with Trimble and have the support of a major player on the international ag-tech scene.
"We are enthusiastic to have been chosen as a Trimble Select Partner and to be associated with this strong brand, well-known in the agricultural sector. The establishment of a commercial relationship with Trimble's distribution network in Europe contributes to our goal to offer an integrated digital service to farmers and bring them innovative solutions, allowing for good decision-making regarding interventions in their plots, in alignment with Trimble's product line. To take part in the Trimble Select program is an ideal distribution vehicle for Sencrop," said co-founders Martin Ducroquet and Michael Bruniaux.
Partnering for the Future
This relationship will allow farmers across the globe the opportunity to increase the precision of interventions on their plots by sharing weather data among them. By collaborating with Trimble, a leader in the global ag-tech industry, Sencrop intends to increase its network of agro-weather stations and to expand its collaborative network.
The companies are excited to introduce this ag weather-data technology to Trimble dealers and customers worldwide. Trimble has been at the forefront of the agriculture business for many years and recognizes Sencrop as a technology innovator in agricultural weather products.
This announcement occurs five months after the Sencrop buy-out of sensor specialist Visio-Green, which allowed for Sencrop to strengthen its position as a leader in connected agricultural weather-data.
First Stage: Europe
As a Trimble Select Partner, Sencrop is available in its Trimble Dealer and Vantage networks. Distribution is primarily focused on the European market.

"We are excited to have Sencrop join our growing network of Trimble Select Partners," said Kevin Barkow, Global Manager of Strategic Projects for Trimble's Agriculture Division. "As a key player in the European market of connected ag weather-data, Sencrop has the optimum technology to sustain precise, efficient, and eco-friendly agriculture. This aligns with Trimble's mission of providing farmers with precision ag technology that helps reduce cost, improve yields, and is environmentally conscious."

"Our Trimble Vantage and Trimble Dealer networks represent some of the world's leading precision technology experts and will serve as the best partner to promote and distribute Sencorp products within the European Union," Barkow said.

Trimble Select is excited to bring this solution to our resellers and customers.

To access Sencrop on Trimble Select's platform, click here. Please contact your local reseller for more information.

Tags: agricultural technology, Data, EMEA, European Union, Precision Ag, precision agriculture, Sencrop, Trimble Select, Trimble Select Partners, Trimble Vantage, vantage resellers, weather data