Best Tips to Save Money on Farm Inputs in 2021
May 17, 2021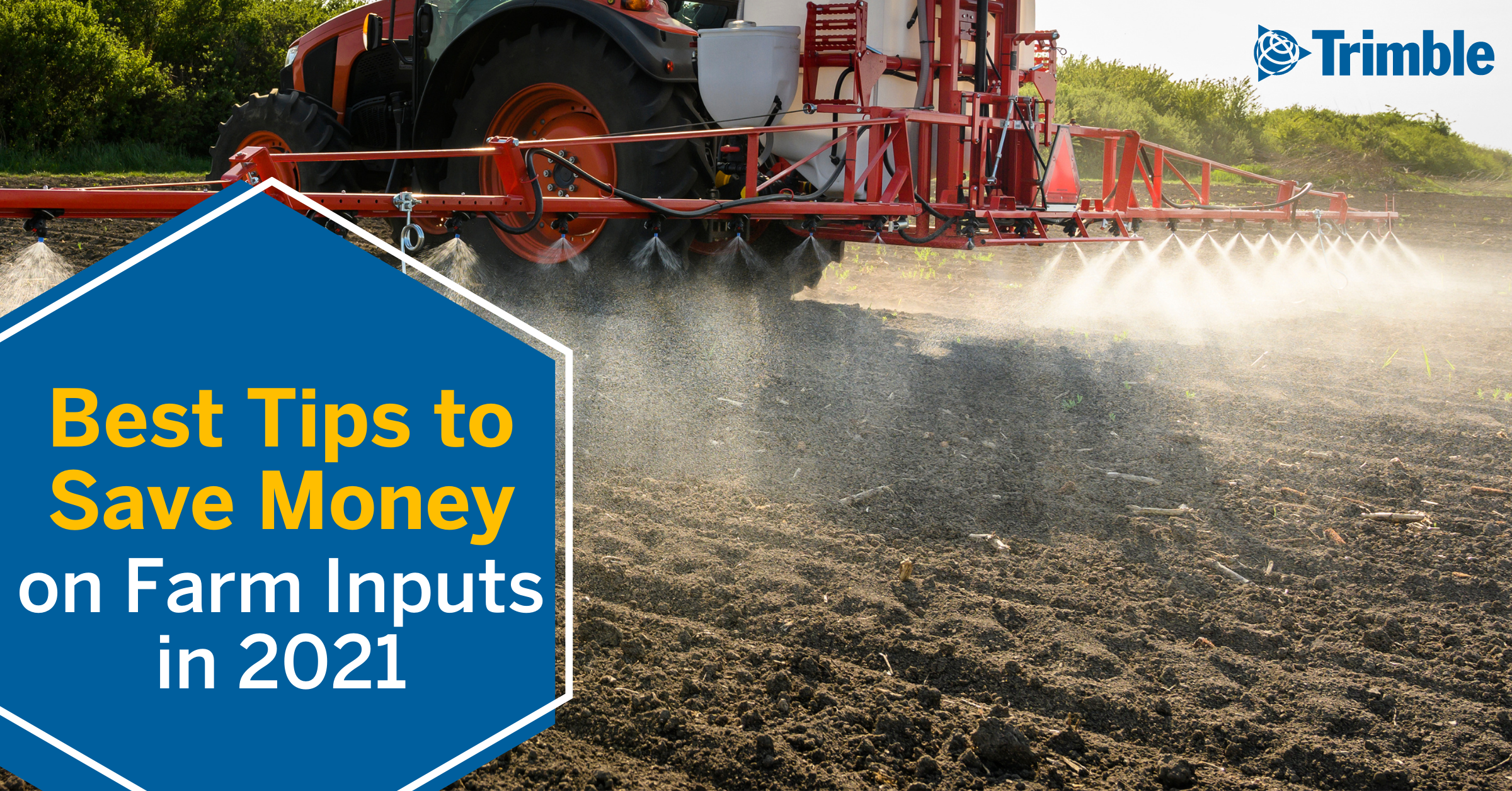 Managing a farm successfully in 2021 requires dedication and a balance of well-rounded skills, plus some important decision-making strategies. 
It's important for farmers to effectively manage farm inputs to save on time, cost, and materials wherever possible. There are several options within precision ag technology that farmers can use to save money on farm inputs in 2021.
Like all industries, the quality of decision-making driving business strategy determines the bottom line and success of the operation. Knowing how to best minimize wasted time and resources is the key to creating a more profitable business. 
Here are some of the best tips farmers can use to save money on farm inputs in 2021:
Maximize Your Purchase Strategy
Reducing farm input costs is key to remaining profitable in the farming business – the lower the total input costs, the higher the profits generated.
Farmers have to implement a sustainable purchasing strategy for farm inputs such as seeds, fertilizer, herbicides, and other farm inputs. You need to get the best value for inputs that you purchase for your farm. 
Some suppliers are able to provide discounts and financing terms for input purchases made well in advance of planting. Enhancing a sustainable purchase strategy can be a sizable cost savings opportunity for your farm.
Optimize Input Use with Variable Rate Application (VRA)
Properly treating your fields and efficiently managing farm inputs such as herbicides, pesticides, and fertilizers doesn't have to be difficult.
You can use effective, connected solutions from Trimble to enhance your application accuracy, which helps reduce wasted inputs and increase your farm's overall productivity – while saving you money in the process.
Variable rate application (VRA) helps you manage variability in your fields by targeting precise areas based on the unique needs of that section of the field. Compared to traditional agricultural methods, this allows more precise targeting of the correct amount of planting and seeding operation at the correct time and location, helping you save money by using your inputs efficiently.
Reduce Farm Input Costs with Variable Rate Technology (VRT)
Variable-rate technology (VRT) allows the farmer to control the amount of inputs they use while also conserving the natural environment. 
It provides optimization on planting density and improved application rate efficiency of pest protection products and nutrients, resulting in farm cost reduction and reducing negative environmental impact. 
Used in combination with VRA, these technologies provide a huge volume of important data on farm activities to ensure you're getting the best bang for your buck.

VRT technology paired with Trimble precision ag technology allows you to apply farm inputs at a precise time and field location to attain site-specific application rates. Instead of spraying every row, you can create prescription maps, which accurately guide your machinery to precisely apply and monitor and control your applications, therefore reducing required labor, fuel, and materials. 
Achieve Precision with Field-IQ
Trimble's Field-IQ makes it simple to automatically manage and control the flow and application of farm inputs. This precision ag system guides your equipment to automatically apply the right rate of input at the right place at the right time, avoiding harmful overapplication AND underapplication.

Concerned that your current system won't connect with Trimble technology? The Field-IQ ISOBUS Control Solution ensures that your farm equipment can communicate with different consoles, no matter the brand. Plus, Trimble's rate and section control technology is compatible with many implement controllers. This enables automatic control functions with your current hardware.

Overall, it is possible to save money on farm inputs and maintain your farm business's long-term productivity. With Trimble agriculture technology, farmers can reduce their input costs while increasing profits by being more in control of their farming business. To learn more, connect with your local Trimble Authorized Reseller today.

Tags: Farm inputs, Farm savings tips, Field-IQ, How to save money on farm inputs, how to save money on your farm, ISOBUS, Tips for farmers, Trimble Ag Software, variable rate application, variable rate technology, vra, VRT