Common Myths You Need to Know for Planting Season
March 29, 2021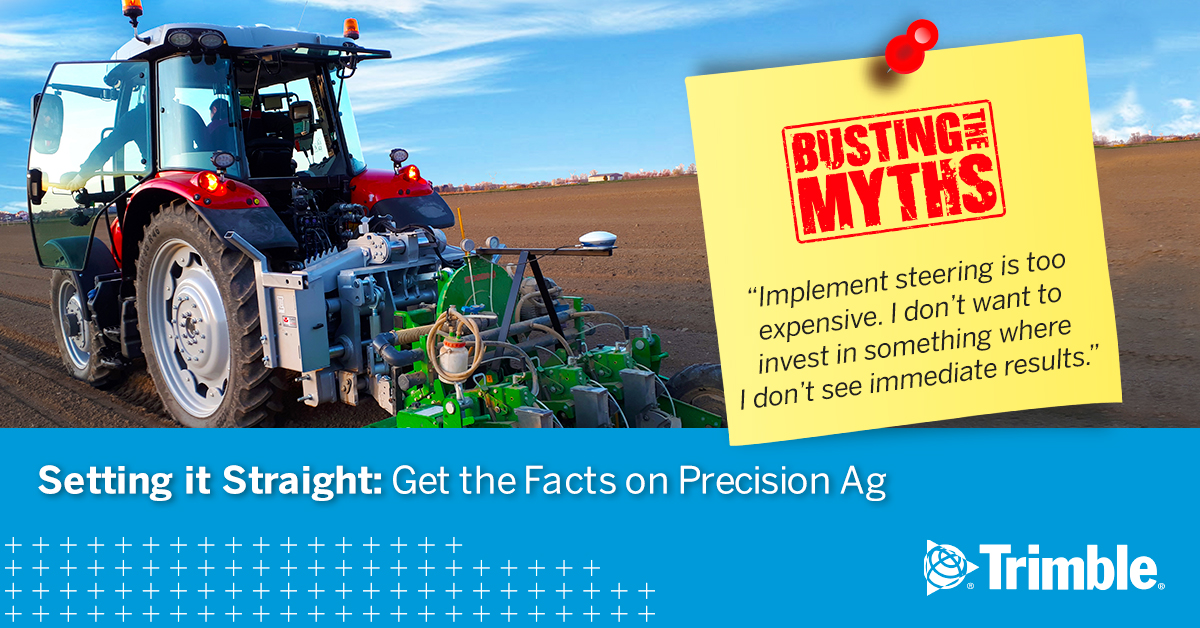 Top Six Precision Ag Myths for Planting Season
As planting season quickly approaches, it's prime time for farmers to take action on ways to be more efficient, increase yields and make the planting process as easy as possible. With this in mind, many turn to precision farming tools, equipment and services.
Starting the Season
Planting is one of the most critical steps in the production cycle, signifying the start of the growing season. Each crop has its own growing cycle, so we realize the accuracy and timing for each type of plant is of the utmost importance to farmers.

During the planting process, precision farming helps ensure crop placement of the seed while managing the rate of seed or plants being planted. It also creates a record of what was done and in which locations to make the planting process as efficient as possible.

Precision farming helps ensure this is all done with the highest accuracy and creates a quicker, more efficient process to do so, helping farmers run lines longer during the day and night. This alleviates the fatigue factors that can lead to errors by semi-automating many of the processes.
Precise Planting + Common Misconceptions
With all the benefits precision farming offers, there are still many myths that exist and dissuade farmers from using this technology to grow their farm businesses. 
Some of the biggest deterrents for farmers include falsehoods around cost, time/set up and the ease of use with precision farming equipment or services.

Below are a few of the top myths we've heard from farmers across the globe, along with the truths on how easy, efficient and less expensive precision ag can be!
Get the Facts: Busting the Myths about Planting Season
1. MYTH : Implement steering is too expensive. I don't want to invest in something where I don't see immediate results.
TRUTH: Implement steering pays for itself quickly, especially for specialty crops like carrots and potatoes, because you can ensure the implement stays in position on the bed. This creates a significant advantage for growers by ensuring proper placement, minimizing crop damage and maximizing yields in a short amount of time.
2. MYTH: I'm a very experienced driver, so I don't need autosteering. It couldn't possibly help me enough to be worth the expense.
TRUTH: No matter how skilled you are, technology is always more accurate when you remove the fatigue factor and rely on repeatable expertise. Trimble's selection of assisted and automated steering systems steers your vehicle on-line with the precision you require. Autosteering minimizes any skip or overlap pass-to-pass and allows you to continue to work at night. Days in the cab get long and fatigue is an important consideration. Trimble technology can help reduce fatigue, enabling the tractor to do the driving while you focus your time and energy on other field activities.
3. MYTH: It's such a hassle to switch GNSS correction technology. I'd rather just keep what I'm doing and alleviate any time or cost needed to change things up.

TRUTH: For farmers with an RTK system, you already have all the necessary hardware licenses required to use CenterPoint RTX Fast. Making the change is as easy as subscribing. Once you've subscribed there is no setup or ongoing maintenance needs – it just works!
4. MYTH: I'm just getting started in farming OR I have older farming tools. Precision farming equipment is too expensive for me.

TRUTH: Trimble has a variety of solutions that are affordable and can help you increase yields, save time, maximize productivity and increase profits. The GFX-350 display is a great place to start. It is compatible with a variety of steering solutions and expandable if you want to add technology options in the future.
5. MYTH: A/B guidance lines can't easily be moved from display to display. It will take too long to make changes.
TRUTH: You can use AutoSync to automatically synchronize data across all your Precision-IQ displays with an internet connection or use a USB stick to move guidance lines from one display to the other, creating a very efficient farm.
6. MYTH: ISOBUS control systems are too complicated and unnecessary for my implement.

TRUTH: You can easily retrofit any of your equipment – planters, seeders, sprayers, tractors – to be ISO compatible. This plug and play solution moves the display logic from proprietary display to the implement, allowing all of your ISOBUS compatible equipment to work together. It also expands your overall productivity and use of your tractors and implements so one machine is not tied to one implement.
Start Planting with Precision
As you can see, the benefits of precision farming services outweigh any potential cost, time or efficiency concerns that exist. Contact your local reseller today to see how you can increase yields on your farm through Trimble's precision ag solutions!

Tags: automation, CenterpointRTX, GNSS, guidance and steering, ISOBUS, planting, precision agriculture, precision farming, Precision-IQ