Track vehicles used in field tasks on the mobile app
Once you've set up your vehicles and data connections on the online account, you can use the Trimble Ag Mobile app to do more than find and navigate to your fleet. You can also track vehicles and operators at the same time when recording field-level tasks on the mobile app.
1. Log in to the Trimble Ag Mobile app on your mobile device (learn more)
2. Click the year (top left) to select the preferred crop year
3. Click on the Fields tile

4. Select a field from the list (sorted by Farm)
5. From the Field home screen, click on a tile for Seeding, Fertility or Crop Protection

6. Click an item on the list to edit an existing field application record, or click the + icon (top right) to add a new record

7. From the multi-tasker menu bar under the field name, click the vehicle icon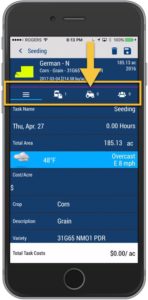 8. Click the + icon (top right) to add equipment (vehicles or implement)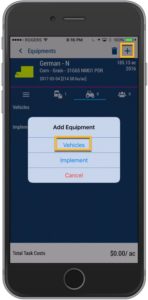 9. Click Vehicles
10. Check the box to select vehicle(s) from the list, used for this field application event
11. Click the

 disc icon (top right) to save your selection
12. Click on the back arrow (top left) to return to the previous screen
13. At the prompt, confirm your changes by clicking Save
Note: vehicle usage tracked with field tasks and associated hourly costs are recorded on the mobile app only and are not visible in the Field Manager or Analytics reports available in the online account.