Setting up the Operator for FarmStream Reporting
Signing in as an operator is not required for Utilization or FarmStream to run, but if you want to see operator information in the application, you must sign in. In order to use operator login with PIQ, the Enable Operators (Operator Sign In) feature must be turned on. This feature can be turned on in the Trimble Ag Software account by logging in and going to Data Transfer -> Settings -> Syncing and turning on Operator Sign in. If AutoSync is not enabled, this feature can be turned on by opening the Operators app, tapping on the gear and clicking on Enable Operators.
If AutoSync is not being used, to set up operator information, turn on your TMX-2050,  GFX-750 or GFX-350 display. You should see the Operators app. Tap on the Operators app icon to launch it.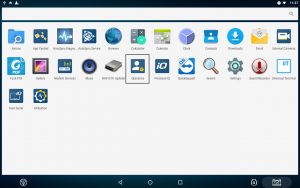 Operators can be created in the Fleet page of the Trimble Ag Software under "Operators" or under the Farm page under "People." All operators in the TMX-2050, GFX-750 and GFX-350 display's organization are automatically sent to the TMX-2050, GFX-750 and GFX-350 display when it has connectivity. These operators can be seen in the Operators app.  If operators in the Fleet or Farm page are changed, any changes will be visible in the Operator app after the app has been killed and restarted, or when the TMX-2050 or GFX-750 display has rebooted.
Operators can also be created locally on the display, but they will not be sent to the Trimble Ag Software to be seen on the Fleet page. These local operators will not show in the Connected Farm menu in the Operator app.
Login to the Operator app in order to track who is using the vehicle, for reporting in the Utilization app and FarmStream: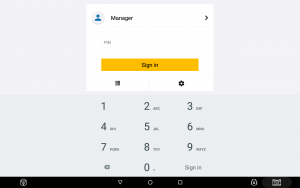 Enter or scan your operator PIN to login.
Once logged in, the operator information will be recorded along with any utilization data.