Set up your crop year online
Each time that you login or use your account, you'll start by selecting your preferred crop year, which will default to the latest crop year saved. The crop year ties your activities and records together under a single point of reference so that you can organize and view information year over year.
When you first use your account, you'll be prompted to set up your crop year and primary crop, as shown below (you can change it later, if needed). This initial setup for crop year needs to completed online so that the system can organize your records, and prior to using the mobile app for the first time.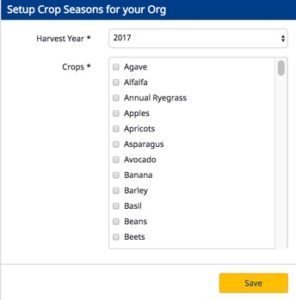 The online account has more options that you can review during initial setup, or change as needed, such as adding additional crop years, adding seed varieties to your purchased materials used during planting, and more. Follow these steps or scroll down to watch our video:
Log in to your account online (learn more)
Click the dropdown arrow next to the crop year (top left)

Click 

Manage Crop Years



On the 

Commodities

menu displayed in the main window, c

lick the

Crop Seasons

tab

Click the +Add Crop Season button

On the Create Crop Season pop-up window, select options in each dropdown list or enter changes as needed (required fields are displayed with an asterisk*)



Harvest Year (required)

 – also known as crop year; select from the dropdown list

Crop (required) – select from the list of crops already entered your account, or click the +Add Crops

 link to select from the master list of crops available in your region

Subcrop (optional) – enter a name (for example, if your crop is corn, your subcrop could be entered as

popcorn)

Activities Start Date

and

Activities End Date (required) – click the calendar  icons to adjust dates (for example, depending on the crop, climate zone and type of activities planned for your operation including soil testing and prep, you can set your own start and end date outside of standard seasonal cycles; as well, if you're connecting data to your account from vehicle equipment displays that don't have a crop season defined, these start and end dates are used to match your data to the correct crop season for the field)
Default Yield Potential (optional) – enter

an estimated average crop yield that can serve as a benchmark when comparing crop plans on your account

Click Save (or Cancel)
For help with deleting a crop year from your account, contact customer support.
Learn more about crops under Tracking Commodities, or watch our video on how to set up your crop year (starts at 3:48):